Love, D. Anne.

I Remember the Alamo.
New York:

Holiday House, c1999.

156 p.; hardcover ISBN 0-8234-1426-4 $15.95; Yearling Books paperback ISBN 0440416973 $4.50.
School Library Journal
recommendation:

Grade 4-7.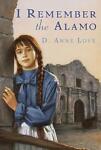 This novel reads easily and will appeal to girls in primary grades.

Teachers and parents should point out the problem areas of the book that might lead to misunderstanding in studying Texas history.

Most of the characters in this novel are completely fictitious, including the main character, eleven-year-old Jessie McCann.

She reluctantly arrives in Texas accompanying her impulsive father and unlucky family.

Some aspects of the racial and ethnic problems arising from a friendship between Jessie and the Tejana girl Angelina may be anachronistic. When Jessie, her younger brother, and her mother take refuge in the Alamo, Crockett says it is "the safest place in all of Texas."

It seems unlikely that anyone unattached to one of the Alamo defenders would have taken refuge in the Alamo, since all the other residents of San Antonio were fleeing from the advancing Mexican troops.
[Courtesy: Lucie Olson's The Alamo and the Texas Revolution, An Annotated Bibliography. DRT Alamo Library, 2004.]